The comment banks in MyEducation BC can be improved significantly by adding the comment ID number into the beginning of the Preview field for the comment. This makes it clear when a teacher searches inside of a category that they've found comment 100 instead of guess between comments that could be ID number 100, 2100, 1001 etc.
To do this in the School View go to Admin TT > Comments Side Tab > Codes Leaf.
Click on the ID number to edit. > Add in the ID number to the beginning of the Comment Preview field > Save > Use navigation buttons to move to next record.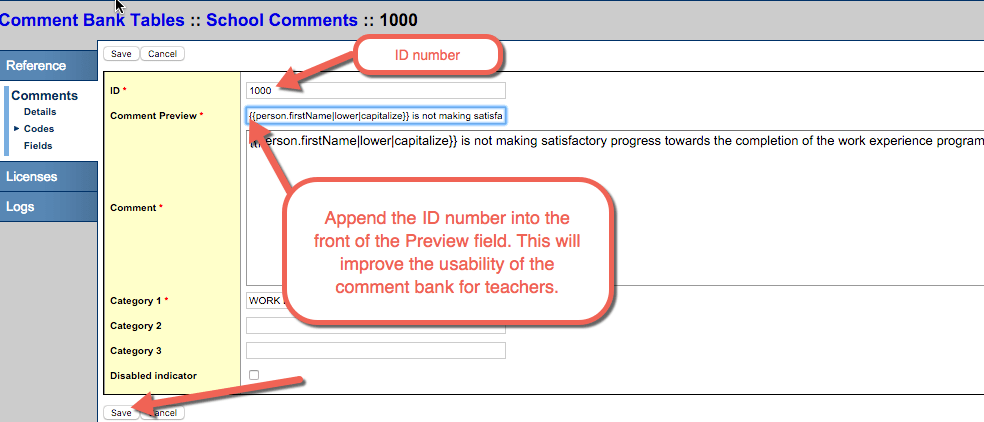 After adding the ID numbers to the beginning of the Comment Preview teachers will be able to see which comment they are choosing. This is exceptionally helpful when they have an extract of the comments as described below.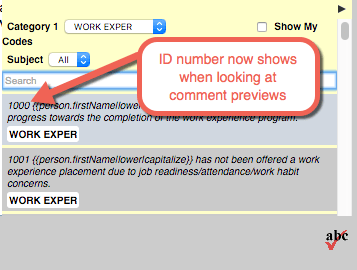 Creating an Extract of the School Comment Bank (School View) – Taken from the Comment Bank document at http://www.prn.bc.ca/myedbc/?p=330 
An administrator or secretary can extract the school comment bank. To do so go to
School View

>

Admin

TT >

Comments

ST >

select

comment bank to extract > click on

Codes

leaf > change the Field Set to

Comment Extract Field Set

Next Click on the Quick Report icon (printer button) and select CSV

Open the downloaded CSV file in Excel

Format as appropriate to distribute to staff (print/electronic)