MyEducation BC has several ways to input attendance information. While flexible this has led to some confusion. Below are some resources and suggestions on process.
Resources
Attendance Codes Practice
Attendance Video (K-6 focus)
KidCheck Video
Office Attendance before 9:30am (click image to expand)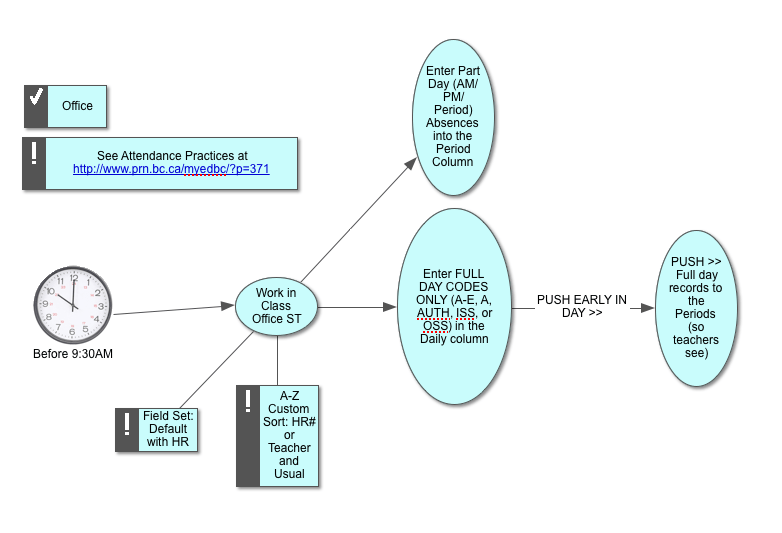 Early in the day work in Attendance TT > Class Office ST 
The default field set has all students alphabetically. You can choose another field set that includes Homeroom info as well as a A-Z Custom Sort that can sort by HR # or HR Teacher Name and Alpha by Usual Name. Use whatever you prefer.
As you receive phone calls etc for FULL DAY ABSENCES enter in an appropriate code in the Daily Code Column. Push >> this FULL DAY code into all periods by clicking on the >> button next to the Daily Code Column. Do this preferably early in the day.
A-E should be used for parent excused absences. AUTH should be used for school approved absences. Both A, and A-E count against the report card attendance. AUTH does not count on the report card. See the Attendance Codes Practice post for more information.
For Partial Absences (AM or PM, P1, etc) Enter in the code by clicking on the … under the corresponding column. If a child were to miss the PM or P3 and P4 due to a dentist appointment the appropriate codes to use would be A-E with a Reason of Appointment or Medical Appointment). Comment briefly where warranted using the vague but informative approach.
Partial Absences will be calculated at night and converted to a daily attendance record. Daily Attendance appears at the top of the report card. Class attendance for some types of report card appears in the table with grades.
Office Attendance after 9:30am (click image to expand)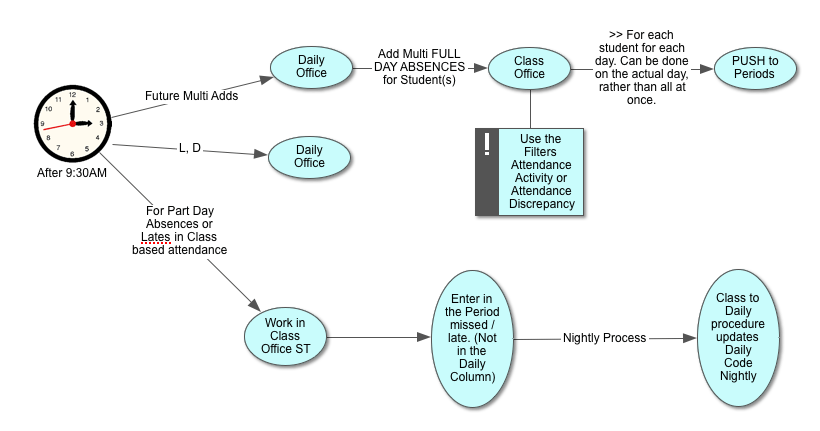 Later in the morning use the Daily Office ST for
Future absences for one or multiple students on one or multiple days

These full day absences can be pushed in the Class Office either on the same day you created them or day by day when you are pushing other records.
Use the two Filters of Attendance Activity and Attendance Discrepancy to help you in this process.

Lates if you have an office check in process. Lates entered into Daily appear on the report card.
Dismissals
For Twice Daily AM/PM Schools when working in Daily Office ST change your field set to Twice Daily. This will allow you to see PM Codes
Use the Class Office ST for
Students leaving during the day that will be absent for one or more period through the day. Enter the absence directly into the period columns using the … link as appropriate.
KidCheck Process (click image to expand)


For KidCheck Schools there is a video resource at KidCheck Video. Full day absence codes should always be entered by the school office as A-E. This will help differentiate an absence where a parent has provided an excuse compared to an unexcused (A) absence. A-E is not a school excused absence and does count against the report card. For more on codes see Attendance Codes Practice.
At the designated time to start KidCheck go to Attendance TT > Class Office ST > Report > Class Attendance Post Verification (Show Non Posts Only setting lets you see only those who haven't posted. Uncheck this to see everyone's post time).
When everyone has posted go to Daily Office ST > Report > Attendance Call Sheet.
Use the Attendance Call Sheet to call contacts for students that have an unexcused) absence. Use the Student TT > KidCheck Field Set or the Contacts ST on each student you need to call for.
Update Daily and Class Attendance as appropriate.
Teacher Attendance (click image to expand)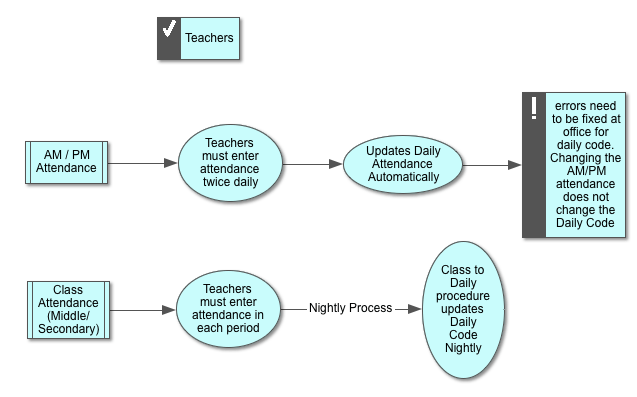 Many attendance issues we've run into are because teachers are not taking attendance in the PM or other class based attendance periods.
Teachers in AM/PM schools are expected to enter attendance in the morning and afternoon. Teachers in period based attendance schools are expected to take attendance in every class period they teach.
Data will only be as good as what is entered.