During the Cohort 7 planned outage (Nov 6 @ 6pm MST until Nov 12 @ 8am MST) school users can access the SDTest Database for READ ONLY TASKS like looking up phone numbers or information on student demographics.
Do not use SDTest for any attendance, course changes, marks, registration etc as it WILL NOT reflect on the production database on or after Nov 12.
You can find a login link by hovering over the Login Menu above > hover over Other Environments > then click on SDTest (L1 Support Only). Use your current username and your password as of October 30th, 2015.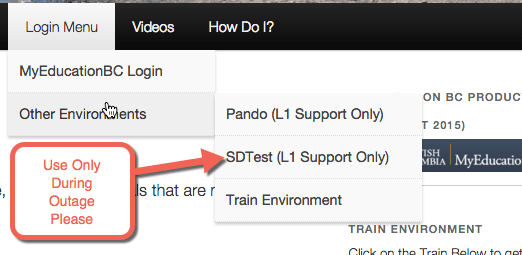 Make Certain after the outage you go back to using the production database. You can tell you are in the production database as it's URL begins with https://www.myed….
The SDTest URL starts with https://sdt.myed…